Small and medium sized companies are rigorously spending on their sales assets to grow their revenues. While this isn't entirely wrong, a lot of these businesses fail to realize that their demand can't keep pace. These same businesses fail to work on their marketing by actively connecting with prospecting who seek their products/services. 
According to a sales research, 61% of businesses say that generating qualified leads and traffic are their biggest challenges. But even then, a vast majority of sales teams let a big chunk of their budget slip away by following wrong strategies. 
Companies in the US spend over $5 million annually to improve their sales. This huge amount can be brought down with significant improvements in results just by outsourcing B2C Lead Generation. 
The B2B lead generation allows you to outsource a major aspect of your sales efforts, enabling you to attend to more demanding tasks of your business to help growth. Whether your company is in its early stages or you're running a large enterprise, lead generation is a proven strategy to grow your business. 
If you're on the fence for outsourced demand generation, Look out for these 5 signs that certainly mean outsourcing lead generation services is the perfect solution for you.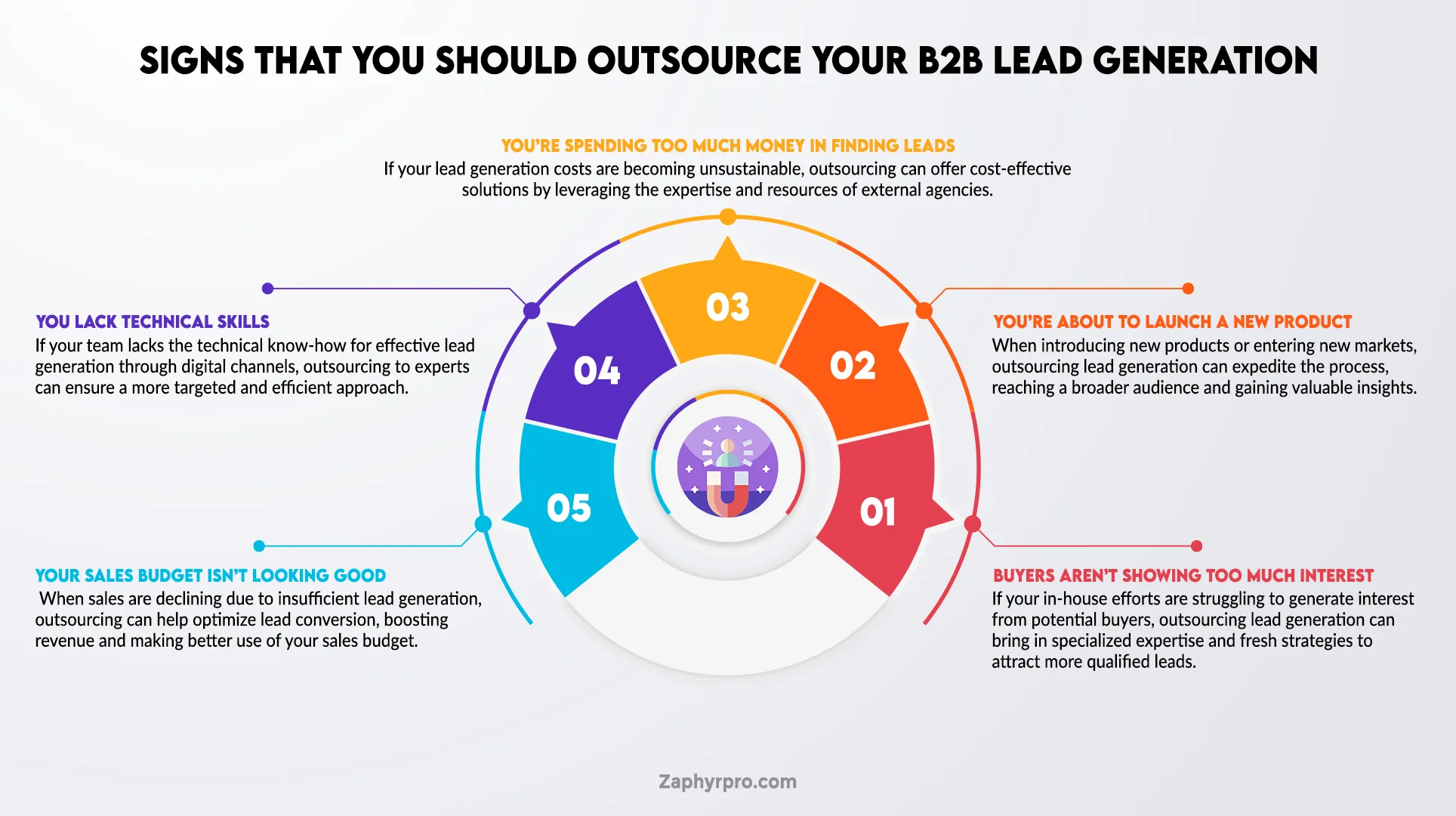 1. Buyers Aren't Showing Too Much Interest In Your Product/Service
When you're looking for ways to bump up your sales, don't waste a lot of your time on uninterested buyers. While it's important that you attend to all types of prospects, make sure you're giving special attention to the ones showing interest in your products/services. 
This is where lead generation specialists provide great help. They find interested buyers and schedule appointments with the decision makers. These services work by booking meetings with all the interested potential buyers falling in your ideal client demographic. 
2. You're About To Launch a New Product Or Expand Your Market
It's always a great idea to create new products or expand the existing ones into new markets. But when you're doing that, you'd need the support of outside professionals who have the right expertise and experience to get you from launch to revenue. These independent contractors or partners will not be held back by biases for the success (or failures) of your current market positioning and they will create the best strategy for your growth goals. They will help you position yourself properly in the new market and create a templated process that clicks. 
3. You're Spending Too Much Money In Finding Leads
Finding and qualifying leads is a difficult task, but this outbound sales effort is a constant practice for any working business. 
That said, if your work days are ending without booking any appointments or closed sales, know that your entire day has gone to waste. 
Lead generation consultants work with all the proven strategies that can accelerate your efforts and make your campaigns a success. They would either work on dead leads or gather interest with the help of a multi-funnel approach. Whatever tactic they choose, your sales rates will see a great enhancement without you having to spend money on hiring additional employees. 
Moreover, since these consultants will take the complete responsibility of handling your outbound sales, you can keep your hands tied with other departments that also need attention. These appointment setting services will develop all the right strategies that sit perfectly well with your business' framework. 
4. You Lack Technical Skills
To market your business on the digital domain, you will need technical skills. For instance, if you're running a website, you'll have to optimize it so that it ranks on search engines. SEO(search engine optimization) is a very technical practice, and it constantly changes because search engines keep shifting their algorithms. 
Another is PPC(Pay Per Click) that also requires a high amount of technical skills to run targeted ad campaigns. And there are several other forms of digital advertising that need technical precision. 
Demand generation companies have specialists who are experienced in creating excellent campaigns according to the product-market knowledge you give them. They will continue to monitor and optimize the traffic as well. 
Therefore, it is important that you select a firm that provides both sales and marketing services. They will use their cold calling, email marketing, and other outbound marketing channels to reach out to the qualified leads, and also provide good feedback on inbound lead quality. 
5. Your Sales Budget Isn't Looking Good
Having lead generation in-house requires a lot of money that goes into development and design. The expenses will drag your business down if you fail to see good returns within a few months. When we consider the DIY lead generation program, there are 4 things that will eat up your budget – staff, overheads, tools, and opportunity. 
Conversely, outsourced lead generation is highly efficient and easy on the pocket for several reasons. They also bring additional experience to the table along with a track record of proven sales processes. 
Want To See a Big Spike In Your Leads?
If you're looking to take your business onto new heights, you must consider outsourcing lead generation to an expert agency that can provide serious benefits. Here at Zaphyre, we have been generating demand for businesses through outbound and inbound marketing for the past 2 decades. 
From proven lead generation strategies to accelerating success, working with Zaphyre will ensure faster growth for your business. Get to know more about B2B lead generation services and get a free quote by getting in touch today.