As a business owner your sole goal is to stack up your profit margins and scale your business up. To achieve this, you will have your marketing team devise various strategies to lure the target audience towards your business. 
While everything seems to be going as planned, there will come a certain point where you will need assistance.
As the marketing strategies start to work, the number of phone calls will also increase. This is where you will have to decide if you need to hire an in-house team that attends to customers or go for a live phone answering service. 
While setting up an in-house call answering team may not be the wrong option, hiring a telephone answering agency will definitely prove to be a better option for you. Here's why: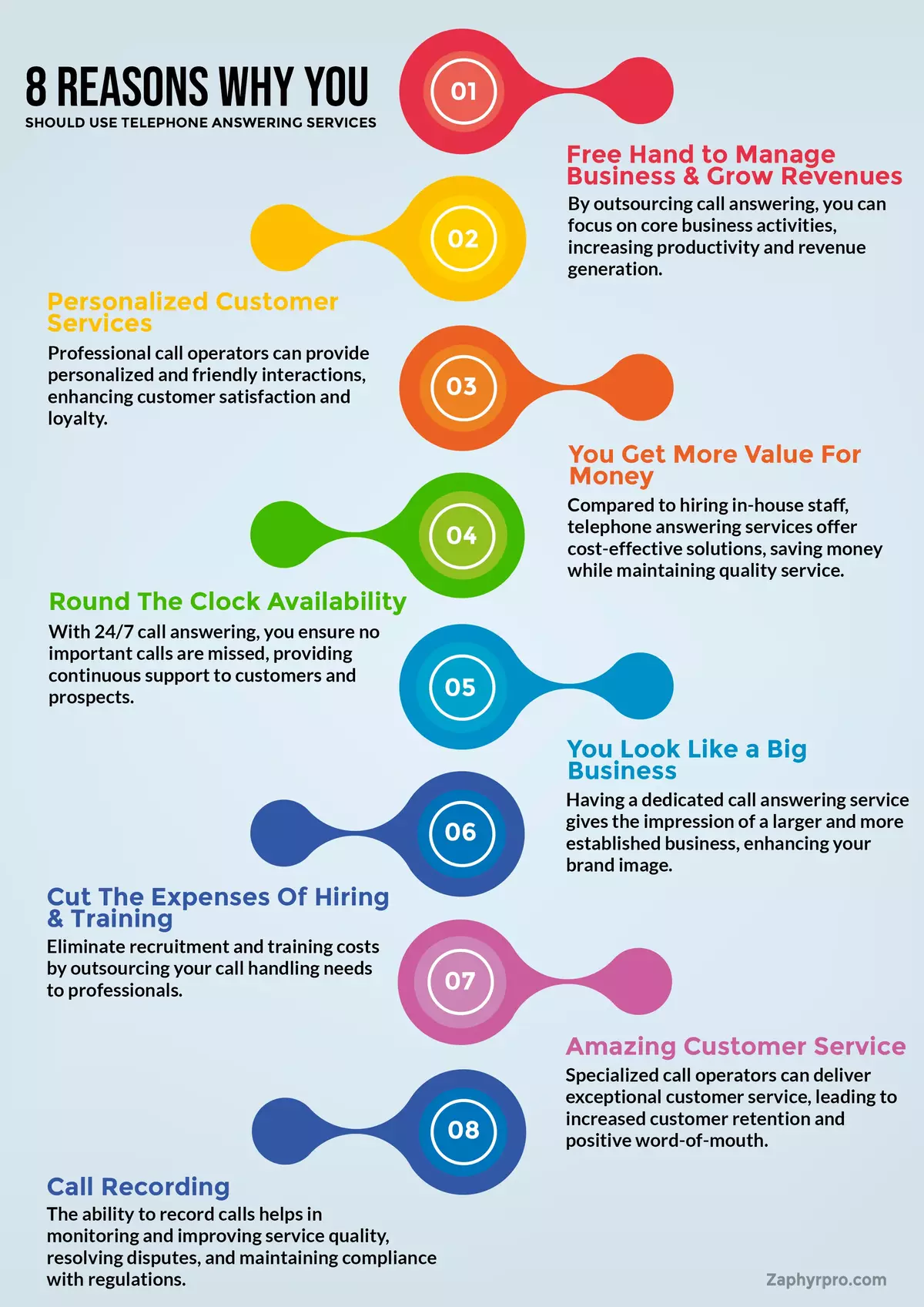 1. You'll have a Free Hand To Manage Your Business & Grow Revenues
Dealing clients over the phone is extremely time-consuming and stressful work. You'd prioritize this over other things because you'd obviously prefer clients over anything else, but this will distract you from all the other important things you need to look after.
Note that even if you hire an employee to take care of this task, you'll still have to take calls of the big potential clients. How will you work on growing your business if all your attention sticks here?
Hiring a telephone answering service will significantly free up your time, allowing you to focus on devising strategies that will grow your business.
2. Personalized Customer Services
Phone answering services are time-consuming and require thorough research. This makes it difficult for the in-house professional to provide personalized services to every client. 
On the other hand, telephone answering companies work tirelessly to figure out clients' needs by studying their interaction history. They conduct proper market research to find the best prospects for the business and deal with them accordingly. Their call agents are also trained to build long-term and healthy connections with the clients. This way they are able to provide personalized services to your customers.
3. You Get More Value For Money
Hiring a telephone marketing service does not only mean they will take your calls. These agencies will do more than just that. They will conduct thorough market research and build a big prospect list for you filled with qualified leads. Moreover, they will also handle other tasks like faxing, taking payments, and transferring calls to the right people. 
What more can they do for you? They can also assist you with proper management of your calendar and diary. By hiring their virtual assistant service, you can literally outsource all your travel scheduling, appointment setting, book meetings, and much more. 
This way you're not just relieving yourself from excess stress and distractions, but you're also getting more tasks completed.
4. Round The Clock Availability
In the current business landscape, you need to do more than what's considered normal to be on top. This includes remaining available 24/7. But, do you really think you can have an in-house team working 24/7 for your business? Sounds quite unfair! On the other hand, the big boys in your industry are up and available at all times for clients, so how do you compete with them?
Hiring a phone answering company will help you stay available for your customers all day long, for the whole week. So, even when your office hours are over, you'd still have a real human taking over calls to cater to your clients from around the world. Moreover, this will also save you the tremendous expense of opening your office for two shifts. 
5. You Look Like a Big Business
As globalization is gaining strength every passing day, the dynamics of business are changing rapidly. Customers now generally incline more towards businesses that are well established and big in size. 
As a small or medium sized enterprise, this may sound like an impossible thing to do considering the huge costs attached with growing the business, but you can now create an illusion of size. By hiring a virtual phone answering service, you'll make your customers believe that your business is very huge. Your brand will look more legitimate and trustworthy to the clients. 
Furthermore, these agencies will also work to uphold and enhance your professional image. As mentioned above, their calling agents are trained professionals who know how to emotionally connect with clients to build strong relationships.
6. Cut The Expenses Of Hiring & Training
If you choose to build an in-house team, you will also have to invest in your HR because they will have intense work to do. The process of hiring, training, and monitoring new employees takes a lot of time and effort. Eventually this will also show up big time on your expense sheets. 
On the contrary, you can cut down all the costs and efforts of hiring, training, and monitoring by getting in touch with a virtual phone answering service. 
7. Amazing Customer Service
Just like how fertilizer helps boost the growth of plants, your clients are also the lifeline of your business. 
Your utmost emphasis should remain on satisfying your clients not just by providing high-quality service but also by creating strong, long-term relationships with them so they build some sort of bonding with your brand. 
You need someone who can handle your clients in the most professional manner and remain in constant contact with them. 
This is what virtual phone answering services are good at; cultivating healthy and reliable relationships with customers. 
They have all the skills needed to turn potential leads into loyal customers. 
Every business that looks to grow, needs data and insights to improve their level of service. This is why call recording is very important for your business. If you choose to legally implement this in your business, it will put a great burden on your pocket. However, call recording comes in the same package of hiring a telephone marketing service. 
As they record calls, you will be able to learn all about what your customers want, making it easy for you to know the patterns customers follow. You'll then be able to devise the right strategies. 
Also, call recording helps protect your business if there's a conflict.
There's no doubt that business expenses are running high with every passing day. 
With all the innovation and new practices you might be bringing in, you still need to work on cutting down the extra expenses in order to survive and thrive. You reduce a significant amount of your expenses by hiring a phone answering company, which will in turn allow you to fund other areas of the business to help in its growth. 
Looking for a reliable call answering service provider? Get in touch with Zaphyre today. We have rich experience in sales lead generation. Our expert call agents are available round the clock, and they work to capitalize on every opportunity by providing your clients with a personalized experience.