B2B sales lead generation is a vital function that marketing and sales teams handle. Indeed, in any B2B business, the more good leads you generate, the more revenue you are likely to generate and grow.
Unfortunately, B2B lead generation is demanding. According to a study, 61% of B2B marketers rate lead generation as their number one challenge. With these statistics, the demand for sales representatives and B2B marketers to keep up with rising trends, technologies, and tactics in lead generation has never been greater.
For this reason, we've compiled a list of multiple valuable ways to maximize B2B sales leads. In this blog post, let's look at b2b sales leads, types of leads, and some of the approaches to strengthening your revenue pipeline.
What is a B2B Sales Lead?
B2B sales leads are people or people within businesses that are potential clients.
A lead is generated when a company or person states an interest in your services or products. Lead generation is a process to create awareness. You can explore various channels, such as the Internet and other sources, to generate potential leads.
There are three main types of leads:
Hot Leads: the person is ready to buy and has the money and budget to close the deal.
Warm Leads: the person may want to purchase, may have already done a trial or testing, or maybe already locked into an agreement with a competitor.
Cold Leads: the person needs to gain knowledge of who you are or what your company does, or they could be looking only for information.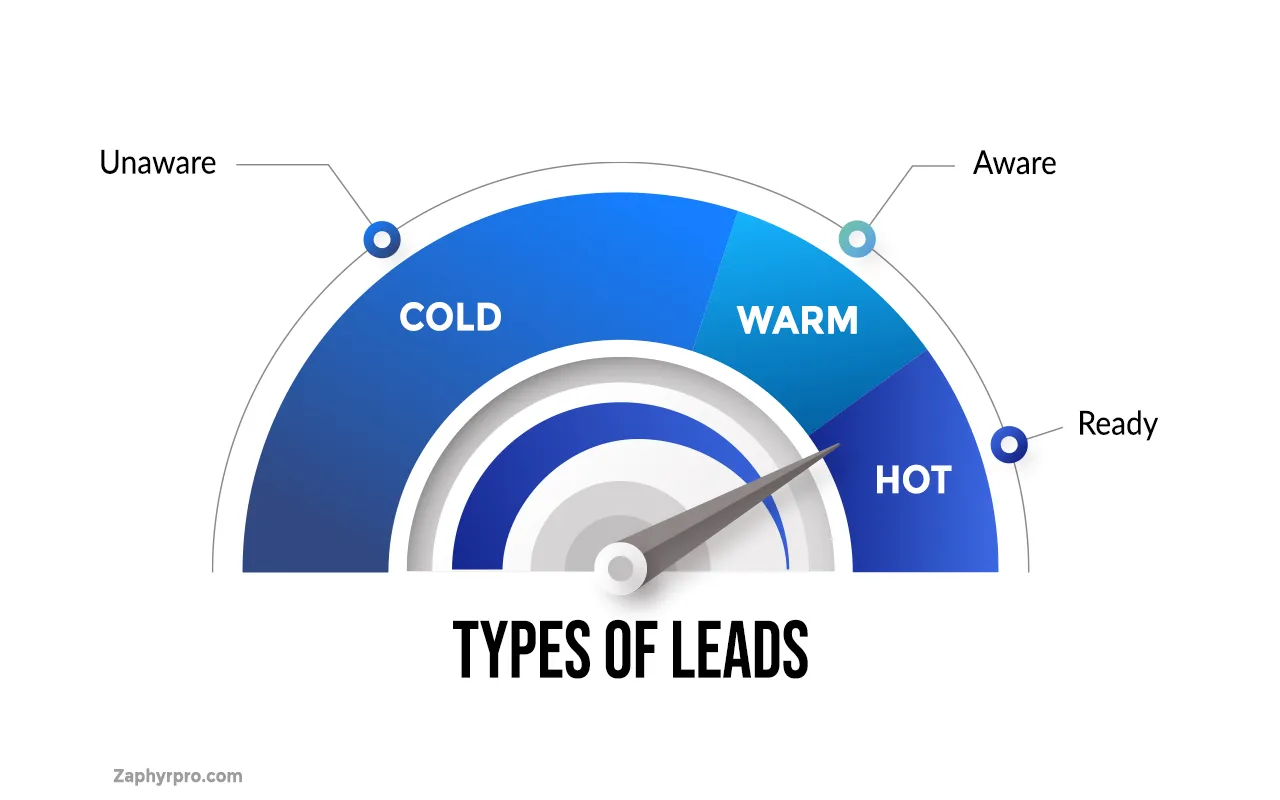 Best Approaches To Generating B2B Sales Leads:
In this section, we'll now dive into the best approaches to strengthening your sales pipeline.
Utilize Cold Calling



Cold-calling is an approach to contacting prospects without any prior contact. It is still a successful sales method despite its reputation, with 82% of buyers reporting they have accepted meetings with sales reps after a series of communications beginning with cold sales calls. Your business can adopt the cold calling method if it fits your business model.

Use Warm Calling



Now that we've discussed the ins and outs of cold calling, let's talk about warm calls. Warm calling is when you initiate contact with a potential customer with whom you have previously interacted, such as through an email, referral, or direct mail initiative. Because you're already familiar with the prospect, the prospect already has some prior knowledge of who you are and what you do, which can lead to a smoother sales call.

Utilize SEO Strategies to Increase Website Traffic



Use search engine optimization to bring your website to the top of Google search result pages. To effectively promote your service, focusing on the keywords people typically use to describe it is crucial. Also, implementing lead capture methods on your website can be helpful in generating more sales leads through search engine optimization.

It is not an intelligent decision to try to hack Google's algorithms to rank well with lousy content. Since Google search continuously improves, you should spend time making great content instead. One effective way to boost your SEO rank is to create quality backlinks through guest blogging. You should also understand which keywords are essential and target them with your blog content.

Here are some valuable tools to help improve your website's SEO:

Ahrefs
Google search console
Google Analytics
Moz

Make Use of Cold Emailing




Make it foolproof to tailor your cold emails and personalize them using fallback texts. Fallback texts let you replace the company name or first name in each email, so each email you send looks fully personalized to each lead. A targeted and personalized email is more credible and effective in getting a response or reply from the recipient.

Use Your Blog to Generate More Leads




The blogs should have exciting and rich content that readers want to read if you're willing to convert them into leads. If you possess an outstanding blog, publishing your content on your website can be an effective method to procure sales leads and backlinks. Creating a blog post also lets you stay in touch with existing customers.

×

Note!

Our

B2B sales lead generation services

include detailed data and market research, prospect & list building, cold calling 150 prospects daily, appointment setting, content creation, email marketing, and even getting leads from LinkedIn automation.



Guest Post on Someone Else's Platform to Reach Their Audience



Sharing your message or vision with new audiences through guest posting on other sites is an effective strategy. If you lack or need more time to do it yourself, consider outsourcing to lead generation companies that can write and pitch blogs or articles for you. Just provide clear guidelines and review the content to ensure it aligns with your brand's tone.

Tap into Current Customers for Referrals



Building and maintaining trust with your current clients is crucial if you want to ask for referrals from them. These referrals could be related to other departments, suppliers, or organizations in their network. By establishing a solid foundation of trust, you can ensure that your clients feel confident in recommending your business to others, which can help you expand your reach and grow your customer base. Always remember to communicate openly and honestly, provide excellent service, and always follow through on your promises to maintain the trust of your clients.

Create White Papers to Generate More Leads



Another effective method of generating leads is to craft a report or guide on a specific topic to entice potential customers and visitors to a website or business. White papers, in particular, are a great approach to provoking interest and seeking attention.

Leverage LinkedIn





LinkedIn is a huge source of sales leads; however, reaching large numbers of people is difficult.

To begin, you have to create a LinkedIn account for free. Once you have done so, you can link up with your acquaintances and examine their connections. As numerous users have hundreds of connections, it is easier to attain recommendations and establish new contacts.

Utilize Facebook or Twitter Lead-Generation Ads



Facebook and Twitter present lead-generation ads where you can manage and collect email addresses. Unfortunately, depending on the content you promote, your results may differ. To maximize your email signups, direct your social media traffic to targeted landing pages designed for this purpose. You can also allow registrations or signups from Facebook as another method to get email addresses.

Identify Unsatisfied Customers of Your Competitors



To generate B2B sales leads, looking for competitors who offer a similar service or product is a good idea. Check if their pricing is higher or if their solution is less performant or efficient than yours. Search on LinkedIn and other platforms for people dissatisfied with the solutions your competitors give them, so you must contact them and pitch them your offerings.

Webinars and Virtual Events.



Host webinars and virtual events to showcase your expertise, products, or services to a wider audience. Webinars allow you to engage with potential customers in real time, address their questions, and demonstrate the value of your offerings. Additionally, post event follow-ups can be used to nurture leads and move them further along the sales pipeline.

Join Relevant Social Media Groups



Interacting with relevant Facebook and LinkedIn groups will help you reach and engage with more leads. You can ask interesting questions to start conversations and reply to posted comments.

Use Google AdWords to Boost Your Website Traffic



Increasing traffic with paid ads is quick, but it can get problematic and costly depending on your competition and industry. To effectively target sales leads, it's essential to consider the volume of keyword searches and users' intent.

Live Chat Assistance





A Study shows that 41% of customers pick live chat for customer support questions.

Live chat tools allow you to engage with your customers instantly. By collecting email addresses, you can cultivate those leads and ultimately increase the number of B2B sales leads.

Customer Success and Upselling



Prioritize customer success and focus on building long-term relationships with your existing clients. Happy and satisfied customers are more likely to provide positive reviews, referrals, and repeat business. Furthermore, an upselling strategy can be used to offer additional products, services, or upgrades to existing customers, increasing their lifetime value and contributing to a more robust sales pipeline.

Increase Online Reviews to Boost Credibility



87% of B2B decision-makers look online for honest reviews before purchasing. If you have customers giving you good reviews, you should be able to generate more B2B sales leads.

Account Based Marketing





Implement an account based marketing strategy that focuses on personalized outreach to high-value accounts and key decision-makers. ABM is a B2B strategy that includes adjusting marketing and sales activities to suit each target account's unique demands and problems. By aligning marketing and sales teams, you can build stronger relationships with potential customers and increase the chances of converting them into loyal clients.

Maximizing Lead Generation Through Online Forums



Industry forums allow you to meet new leads and better know your existing customers. You can showcase your expertise and build trust by sharing your views and answering questions on these online platforms or forums.

Answering Relevant Questions on Q&A Websites.




Social question-and-answer and online knowledge market websites can be great sources of new sales leads. You can reach potential customers by discovering the right questions and providing the best answers to their concerns. You can start by researching existing queries that are pertinent to your business.
In conclusion, generating quality leads is a vital aspect of any B2B business, and it requires constant improvement and adaptation to stay ahead of the game. As we are currently in the year 2023, it is crucial to identify the techniques that work best for businesses and implement them effectively. 
At Zaphyre, we understand the challenges of sales lead generation and offer our expertise to help you achieve your goals. Book a demo with us to see our services in action. Our team will walk you through our capabilities and show you how we can enhance your sales lead generation process.