In the past few years, there have been major advancements in the field of lead generation. Thanks to data and technology, we now have more sophisticated and targeted ways of generating leads than ever before.
The lead generation landscape is changing. In the past, the focus was on generating as many leads as possible. However, with the rise of data-driven marketing, the focus is shifting to quality over quantity.
One of the most promising new methods of lead generation is using data-driven approaches. By collecting and analyzing data, we can identify patterns and trends that can help us target our audience more effectively. B2B customers have now started to demand digital service tools instead of the traditional methods and techniques.
As the world of lead generation evolves, it's important to stay up-to-date on the latest trends and developments. In this blog post, we'll discuss the future of lead generation and some crucial trends that you must consider to get ahead of the competition.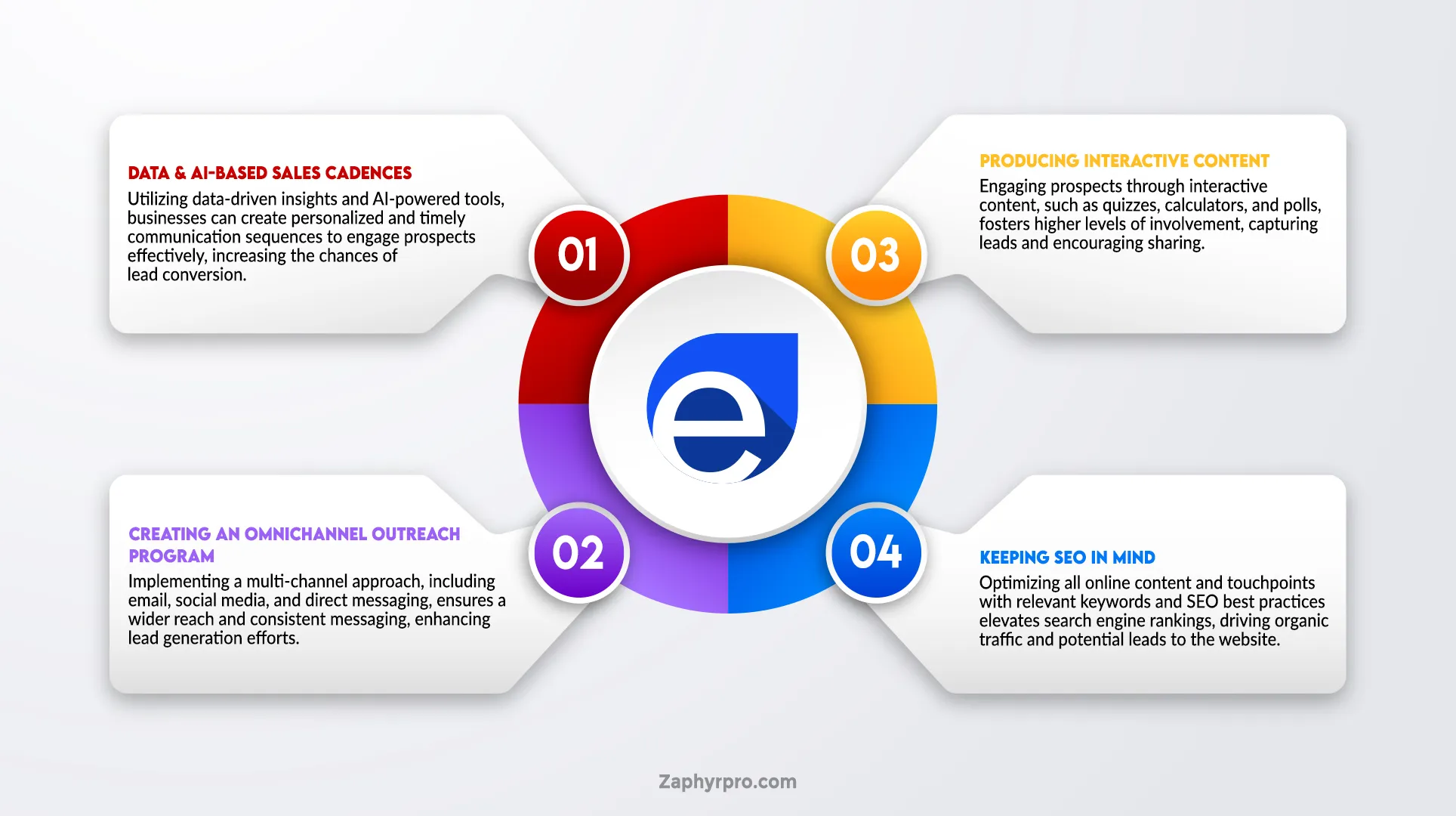 1. Data & AI-Based Sales Cadences
Data-driven marketing is all about using data to improve your marketing strategies. By collecting and analyzing data, you can identify patterns and trends that can help you target your audience more effectively. According to latest research, high-quality data increases team's efficiency by 52% and improves cost-saving of the company in the longer run by 40%. Most importantly, it enables the management to make more informed strategic decisions.
One of the most exciting developments in data-driven marketing is the use of AI-based sales cadences. Sales cadences are sequences of steps that salespeople take to close a deal. By using artificial intelligence, we can create sales cadences that are tailored to each individual buyer. AI tools help create a sequence of steps that includes all the right touchpoints for the prospect pool you want to target. This helps us close more deals and increase conversions.
The future of lead generation is data-driven and driven by artificial intelligence. By using these two technologies, you can stay ahead of the competition and generate better results for your business.
2. Creating an Omnichannel Outreach Program
There are many ways to generate leads, but one of the most effective is through omnichannel outreach. Omnichannel outreach is a type of marketing that uses multiple channels to reach potential customers. This could include email, cold calling, social media, organic inbound marketing through SEO, PPC and others, LinkedIn Automation, and more.
The goal of omnichannel outreach is to create a seamless customer experience that meets the customer where they are. By using multiple channels, businesses can reach a wider audience and increase their chances of generating leads.
Omnichannel outreach is an effective way to improve lead generation because it allows businesses to customize their message for each channel. This means that businesses can create a more targeted approach that resonates with potential customers. Additionally, businesses can use data from each channel to track the effectiveness of their outreach and make changes accordingly.
3. Producing Interactive Content
In today's noisy world, it's more important than ever to produce content that cuts through the clutter and engages your audience. And one of the best ways to do that is by creating interactive content.
Interactive content is a powerful tool for generating leads. It's engaging, informative, and can be tailored to fit any stage of the buyer's journey. Plus, it's a great way to capture people's attention and get them to take action.
Engaging and meaningful content is any type of content that encourages users to take an active role in the experience. This can include anything from quizzes and polls to calculators and infographics, brochures, whitepapers, and more. Most of the time this content can also be in the form of audios – podcasts and audiobooks. Research shows people engage more with such type of content and thus it generates better leads for your business.
And while it's often used for entertainment purposes, it can also be used to educate and inform your audience.
This type of content is a powerful tool that can be used at every stage of the buyer's journey. It's also an effective lead generation tool that can help you increase your leads by hundreds or even thousands percent. If you're not using interactive content yet, now is the time to start!
The conventional outbound lead generation methods are still producing results. And with data and AI coming into the game, the methods have become quite effective. However, as a lead generation specialist, you need to incorporate the inbound techniques to up your game. And what's better than having your website ranked on the top pages of Google?
The basic requisite for lead generation is to have people interact with your business. In today's world, this mostly happens online, which means relying on organic traffic coming through your site.
Google processes more than 3.5 billion searches every day, and if your business pops on top of the search results, you would definitely thrive.
Search Engine Optimization might just be the best way to grow your lead base because you're reaching people at the exact moment they're searching for information you have.
What's another benefit of SEO? You don't have to pay on every click a user makes on your site's link.
Now that we've established the importance of SEO, let's not forget the work that goes on content here. Nowadays, a lot of people produce good pieces of content. They offer new angles on things, new information, and meaningful tips as well, but it must be noted that creating content isn't the only thing. Ranking it is what really makes the difference.
According to the latest research, less than 10% of people go to the second page of a Google search, making it all the more important to get your content on the first page. This is why it's super important to tick all the SEO boxes while creating content.
What more can you do with your content? Create outreach campaigns that inform other websites about the content you've generated and try getting some links to it. This will significantly help you rank higher even if you have a high domain authority.
Zaphyre's New & Improved Lead Generation Approach – SLG 2.0
Here at Zaphyre we have been providing a comprehensive lead generation package to businesses all around the US, from various industries. Over the past 2 decades, we have worked with one goal – to grow by growing our clients' businesses. And we have successfully done that for businesses in 6 different niches.
While continuously making great progress in helping businesses grow, we have taken a further leap to change the entire outlook of lead generation. We have reimagined the way lead generation works, reconstructed the conventional outreach programs, restructured our processes and SOPs, and have rebranded our service which is now called – SLG 2.0.
As a leading B2B lead generation agency, Zaphyre has significantly increased the usage of AI-powered tools to improve all the functions. Whether it is market research, content creation and design, and all the various methods for outbound marketing that includes cold calling and appointment setting, email marketing, LinkedIn marketing, etc. And that's not it, we mix the inbound lead generation methods with our outbound techniques to ensure maximum results.
Contrary to the usual lead generation practice of presenting leads and appointments to businesses and backing up from there, Zaphyre provides sales-ready and qualified appointments and our consultancy and support does not stop until our client(s) have closed the deals.
Want to know how to generate leads in sales? Get in touch with us today!