Sales prospecting is one of the key steps of the sales process. Also, it is one of the most challenging stages.
A report says that more than 40% of sales representatives stated sales prospecting as the most difficult stage of the sales process.
So why is it complex? Well, we should admit that sales prospecting is not as thrilling as closing a sale. Hence, it is usually delayed when all the crucial things are accomplished.
Every professional can ensure that sales prospecting can be problematic when groups don't have the right strategies and tools. Also, sales development representatives (SDRs) need refined and advanced prospects to execute their lead generation activities. 
For this reason, this blog post strives to lay a concrete foundation for prospecting as a concept, with practical prospecting tips and methods for achieving sales success.
What is Prospecting in Sales?
Prospecting in sales determines possible clients or prospects for an organization or business. It involves researching industries and people that may need the services or products offered by the organization or company and getting in touch with them to establish a fruitful business relationship.
Prospecting aims to create a precise database of potential customers so that marketers can have a more comfortable time sifting and nurturing these prospects. Once these prospects are qualified, sales experts attempt to complete those deals.
Sales Lead vs. Sales Prospects vs. Sales Customers
The prospecting process labels website visitors, followers, and potential customers who have shown some interest in your product or services into the following groups:
Leads

Prospects

Customers
Sales leads are people or businesses that are potential clients. They start the sales process and are essential to keeping a stable sales pipeline. A lead gets generated when a company or person states an interest in your services or products.
Sales lead generation is a process usually owned by marketing to create understanding or awareness. Businesses can explore various channels, such as the Internet and other sources, to generate potential leads.
There are three primary lead types: 
Hot leads are those who are prepared to buy and have the resources to complete the transaction. 
Warm leads may be interested in making a purchase, may have already tried something out or tested it, or may have already signed a contract with a competitor. 
Cold leads are those who need to learn more about what your business does or who may only be seeking information.
Sales prospects refer to potential customers who have shown interest in a product or service and may eventually become paying customers. Sales teams use these prospects to target their sales efforts and convert them into loyal clients. It is essential for companies to properly manage their prospects and maintain positive relationships to ensure continued business growth.
In sales, a customer is anyone who purchases a service or product from a business. They are the lifeblood of any sales operation; without them, there would be no revenue. It is essential to understand the wants and needs of the customer to serve them best. Also, providing excellent customer service is vital to retaining and attracting new customers.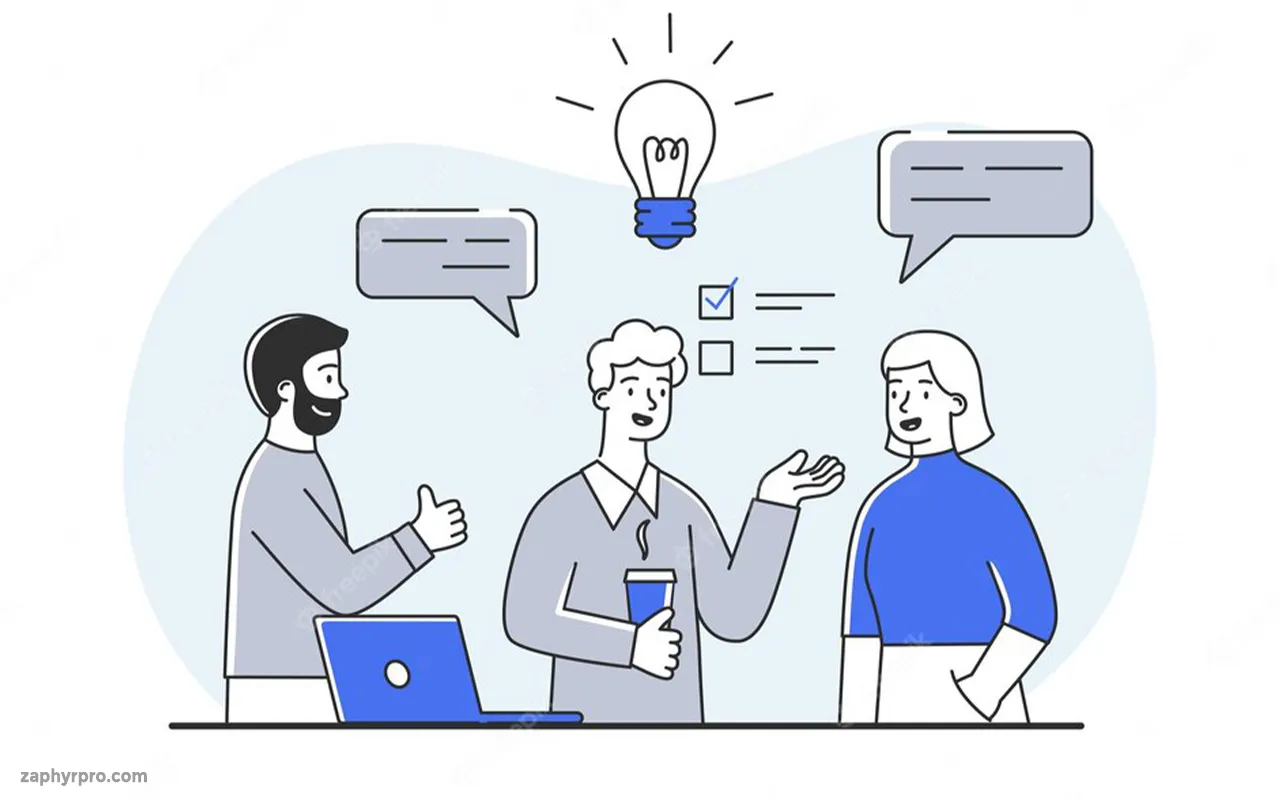 Most Effective Prospecting Methods
As usual, the B2B prospecting measures have some significant variations from the B2C strategy. The prospecting game for B2B marketing and sales representatives requires delivering the sales funnels with the best-qualified leads.
Here are some booming outbound B2B prospecting methods that manage to hit the mark:
LinkedIn 

Tracking website visitors 

Remarketing 

Cold emails 

Cold calls
By utilizing LinkedIn's extensive data on users' job titles, industries, and interests, campaigns can be tailored to reach specific audiences. It increases the likelihood of connecting with potential leads and ultimately converting them into customers. Additionally, LinkedIn campaigns allow for personalized messaging and the ability to track and analyze the success of the campaign.
Tracking Website Visitors
It enables businesses to learn more about your potential customer's interests and behaviors based on their website activity; it can be a successful prospecting strategy. Companies can identify potential leads and target them with pertinent messaging by analyzing visitor data, which improves your chances of turning them into customers. In general, website visitor tracking offers a more focused and customized prospecting method, which can increase conversion rates and improve ROI.
Remarketing campaigns are effective prospecting techniques because they concentrate on the people who have previously shown interest in a business or its products. Retargeting these visitors with relevant ads increases the chance that they will buy from you. This strategy can also result in a high ROI and is cost-effective compared to traditional prospecting methods.
It can be a highly effective prospecting method because you can target and personalize your outreach to potential clients, it can be a very effective prospecting technique. Your target audience can be convinced to interact with your business by reading compelling email messages about their needs and pain points. Additionally, cold email campaigns can help your business build awareness, establish your authority in your industry, and generate new leads and sales.
Cold phone calls can be effective for prospecting potential customers. Many successful salespeople rely on them to build connections and make sales. Approach each call with a friendly and professional attitude, and be prepared to answer any questions they may have about your offering. Cold calling may not be the easiest way to prospect but it can pay off in the long run.
Trending Tips for Sales Prospecting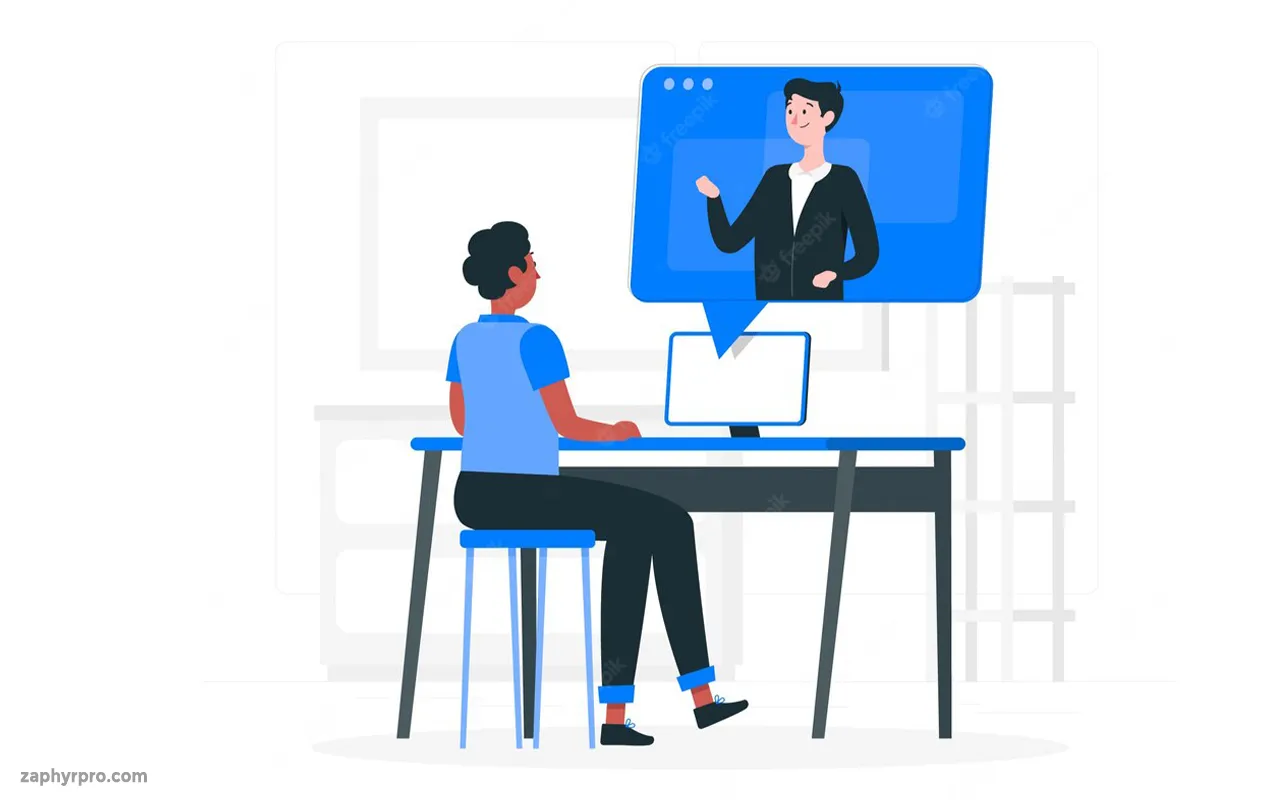 Prospecting is one of the most demanding and time-taking tasks that salespeople encounter. But, if done correctly, it can be a compelling experience that polishes sales skills and lets your team discover potential customers who fit your business proposal completely.
Here are trending tips for sales prospecting businesses need to know.
Know when to stop pursuing prospects

Following up

Ask for referrals
Know when to stop chasing prospects
You or your team don't want to waste your time and resources on someone who isn't interested or a good fit for your product or service. Instead, focus your efforts on building relationships with those who have the potential to become long-term customers. 
Remember, being strategic, knowing when to change course, and refocusing is more important than giving up. A quick tip: your team can also develop a prospecting cadence to maximize engagement and hit goals. 
Learn more by watching Cognism's videotape, which introduces the ideal B2B prospecting cadence.
Following up demonstrates your determination and commitment to assisting your prospects in finding a solution that fulfills their needs. Therefore, feel free to get in touch with and check in with your prospects, as it could be the key to making the sale.
If you want to request referrals from your current clients, you must establish and maintain trust with them. These recommendations might be in relation to different divisions, vendors, or groups in their network.
You can make sure your customers are comfortable referring your company to others by building a solid foundation of trust. This will enable your business to increase its customer base and reach. In order to keep your customers' trust, always remember to communicate openly and honestly, offer top-notch service, and consistently deliver on your commitments.
What Advantages Does Sales Prospecting Offer?
There are many vital effects to keep in mind when sales prospecting. Some of these are catered targeting, higher revenue and ROI, and better conversion.
More customers equal more revenue because every new prospect your team finds and converts to a customer increases sales at your business. Companies benefit from this growth over time, which also helps to reduce the risks of rising operational and product costs from inflation.
Prospecting gives businesses total control over the lead generation process and enables them to evaluate the most effective channels. It also allows them to target and collect leads more likely to become paying customers. You can tailor your lead list using tools that provide advanced search filters like industry, role, company, and specific keywords.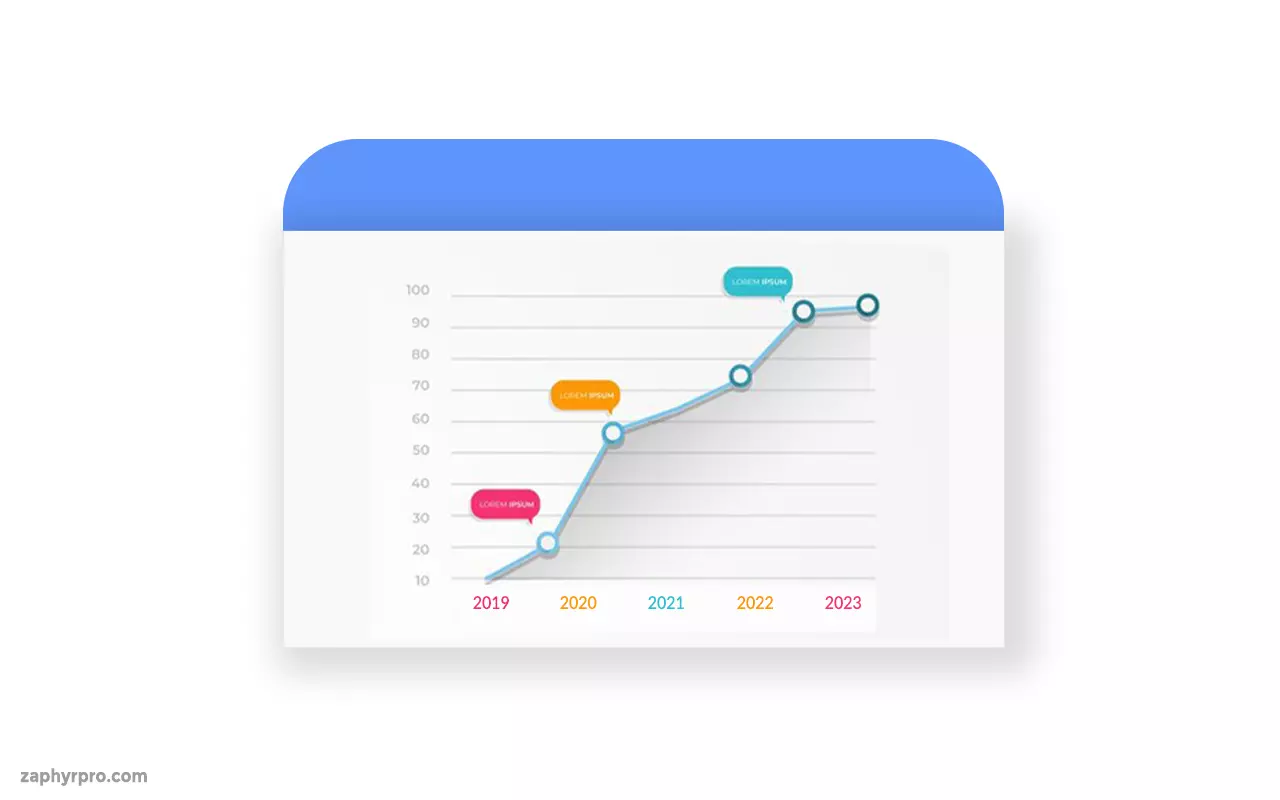 When focusing on leads, using your time wisely can increase conversion rates. Only when carefully chosen cold prospecting can even demonstrate a higher conversion rate than warm lead prospecting. As a result, it's critical to target carefully and prioritize quality over quantity.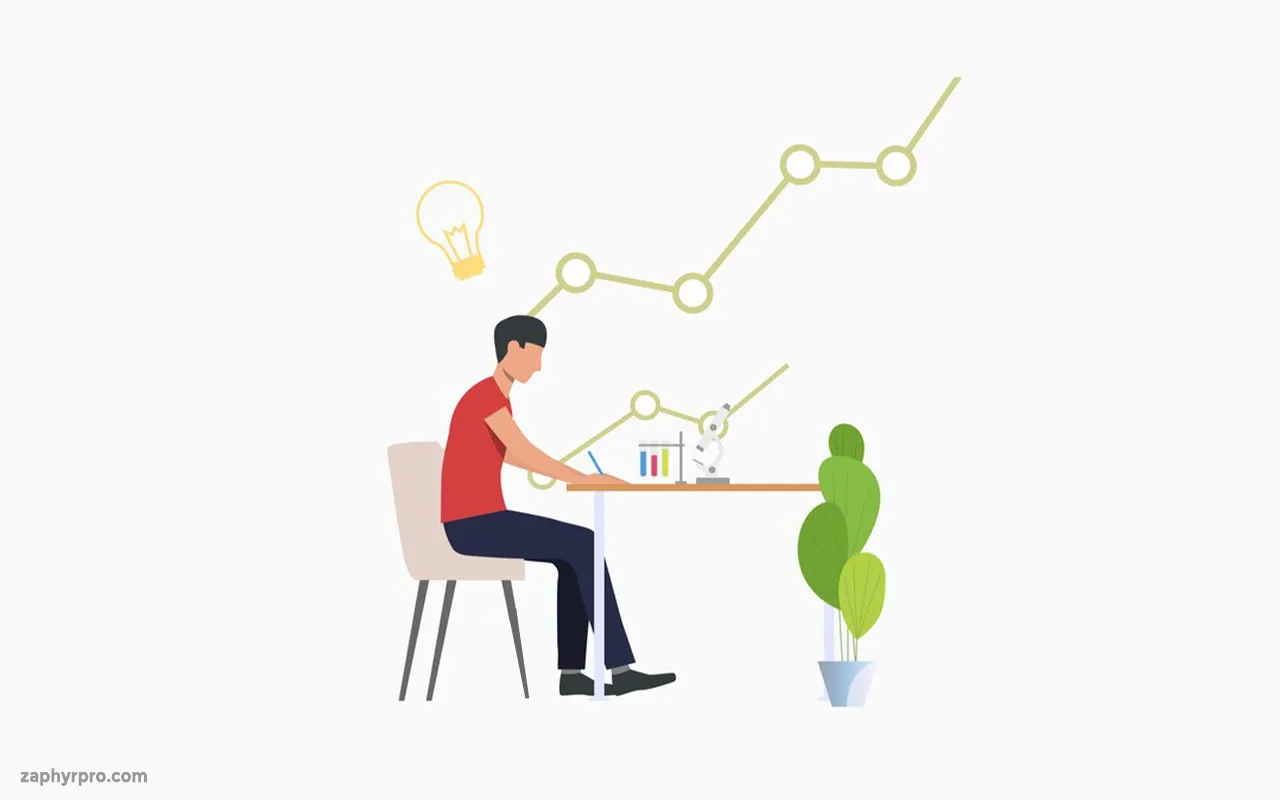 Why is Commitment to Prospecting Essential?
Prospecting requires businesses to accept another reality: leads won't magically appear in your lap. Action is necessary for something to occur.
It's crucial to schedule a particular time to prospect each day, just as your team would block a regular time in your calendar for your activities. 
According to research, 81.6% of top-performing salespeople devote 4 hours or more daily to sales-related tasks.
And since prospecting isn't always the most fun of activities, reserving or booking this time with yourself will ensure this activity occurs regularly.
Such a discipline has many advantages:
a lead-filled sales pipeline,

increased likelihood of conversion,

greater success rates.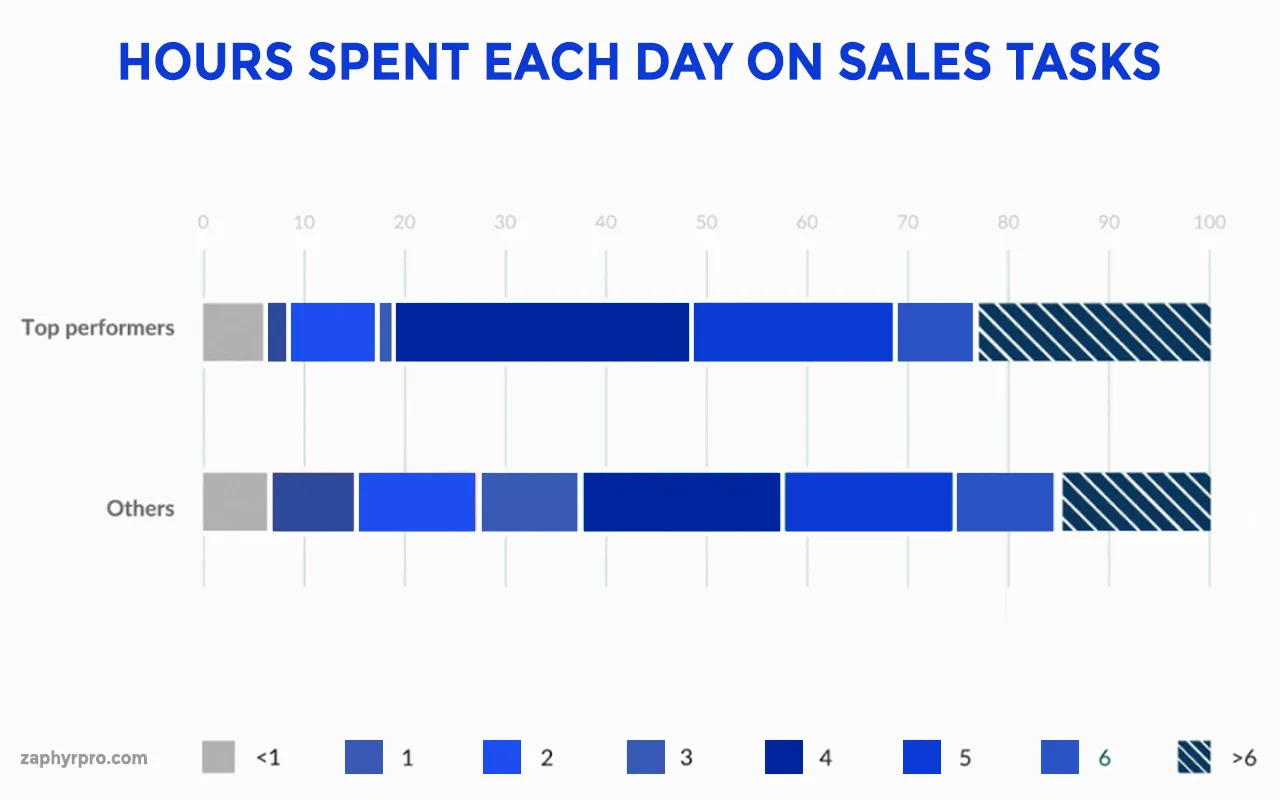 Prospecting for leads can be a challenging endeavor, but with the right methods, tools, and effort, it can become more accessible and more fruitful. One effective approach is to track the amount of time your team spends on prospecting each day. It helps in understanding the effort invested and identifying areas for improvement.
However, if prospecting is taking longer than desired, partnering with a lead generation company can prove to be highly beneficial. It allows you and your team to focus more on the sales process while experts handle the lead generation. This collaboration increases the potential of closing more business deals and achieving higher revenue.
At Zaphyre, we specialize in analyzing the number of leads and sales generated, segmenting them based on channels and campaigns. We provide comprehensive insights into what truly works and what doesn't in sales prospecting. Our data-driven strategies ensure that you no longer waste time generating numerous leads that fail to convert into revenues.
To experience our services firsthand, we invite you to schedule a demo. Our dedicated team will guide you through the capabilities of our solution and demonstrate how we can enhance your sales prospecting process. 
Don't let ineffective prospecting hinder your sales growth. Partner with us today and unlock the potential for increased success in acquiring valuable leads and closing deals.