In the modern digital age, where attention spans seem to be diminishing and competitions are growing fierce, businesses are constantly looking out for innovation. There is a constant hunt for generating high-quality leads to boost the sales.
While traditional marketing tactics may have worked well in the past, the business dynamics have taken a sharp turn, with B2B content marketing coming on top as the game-changer.
Picture this – A B2B business finds you, reaches out to you, willingly engages with your brand, and ultimately becomes a valuable customer. Sounds amazing, no? This fascinating idea is entirely what B2B content marketing brings – an approach that is now becoming indispensable for B2B sales lead generation.
Gone are the days of annoying advertisements assaulting your target market with generic and salesy copies. The domain of B2B Content Marketing takes a more refreshing, value-inducing, and customer-centric approach that emphasizes more on relevance. By creating unique and valuable B2B content that educates and entertains – businesses have the chance to stand out from the crowd and establish themselves as thought leaders.
For quick business-to-consumer (B2C) conversions, nothing beats traditional marketing strategies. But if you're willing to draw more B2B customers or build brand loyalty, then B2B content marketing is the key. A fact says that more than 90% of B2B marketers state their content as the most helpful marketing support.
Let's dive into why content marketing is the most valuable marketing asset for B2B sales lead generation and the most effective ways to use it in your business techniques.
Keep reading to learn more:
What is Content Marketing?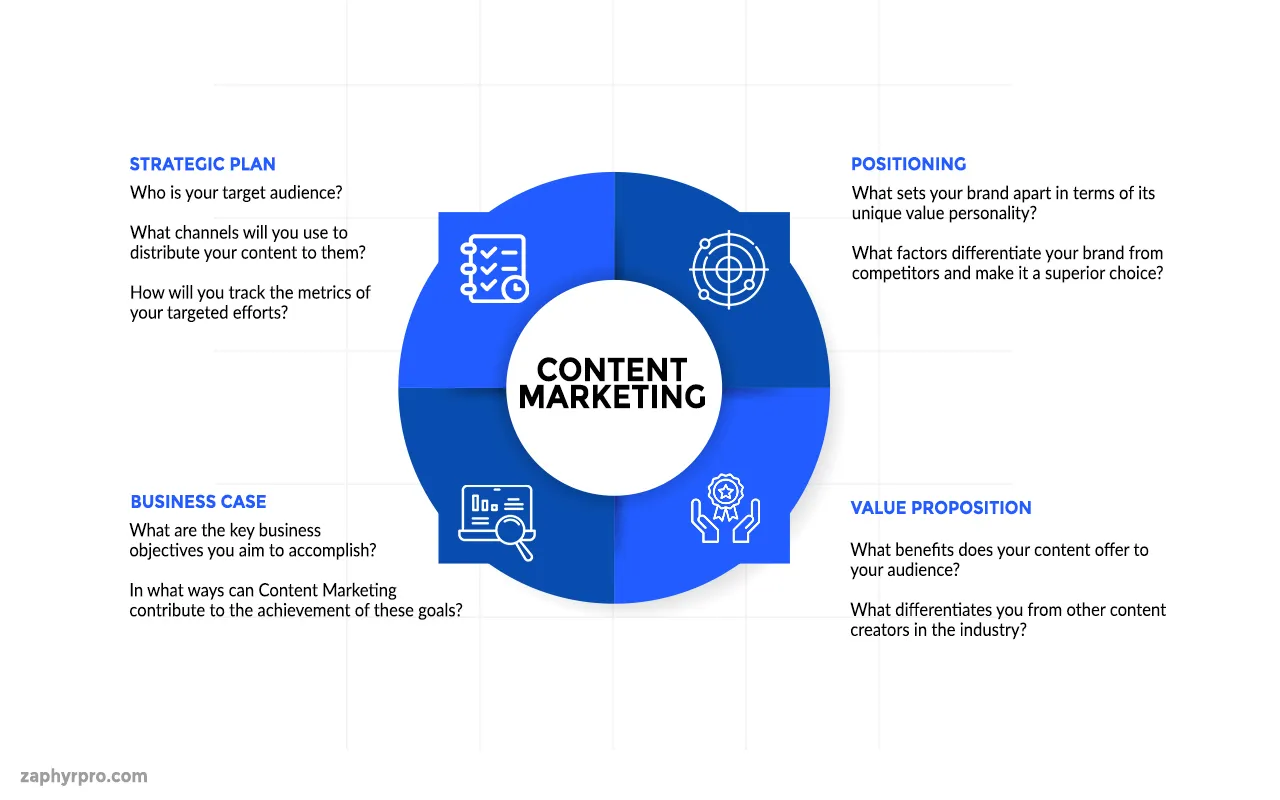 With content marketing in its full flow, a recent report reveals that:
More than 90% of people find personalized content valuable.
Content marketing is a more cost-effective approach that yields three times more leads.
According to 78% of Chief Marketing Officers, custom content is the way of the future.
60% of prospects are inclined to purchase after encountering relevant content.
A considerable amount of companies are now utilizing content marketing tactics, with a hike from 70% to 82%. Plus, an additional 28% will be planning to invest this year.
To stand out among competitors and draw your customers' attention, creating tailored and multichannel content that links with your target market is essential. With a productive B2B content marketing plan, your business can easily kindle interest and sustain engagement!
What is B2B Content Marketing?
B2B content marketing is distributing and producing B2B content to bolster brand leads, traffic, sales, and awareness for business-to-business (B2B) companies. The most common types of content marketing in B2B sales lead generation are blogging, email newsletters, public releases, and infographics.
If you are a B2B business that wants to acquire new clients, it's essential to have successful lead-generating tactics. A 'lead' is simply a prospective customer interested in your products or services. Content marketing can be utilized as a powerful tool to engage such individuals and establish long-term relationships with them.
All helpful B2B sales lead generation strategies for generating leads need to include some form of high-value content marketing if they intend to acquire top-notch prospects.
Why Should Your Business Use B2B Content Marketing?
Are you happy with the cost and number of inbound leads you achieve? If the answer is no, then B2B content marketing may be the key. This approach will help your business scale leads at a lower cost than the standard calls to action like "talk to a sales guy" or "get a demonstration."
Additionally, it's always great to try new strategies rather than not try them. Your marketing tactics may work for your business, but what if the B2B content marketing could bolster your outcomes from great to outstanding? Content marketing can amp up your entire strategy by delivering the proper support across the B2B sales funnel in a way traditional marketing often struggles to do.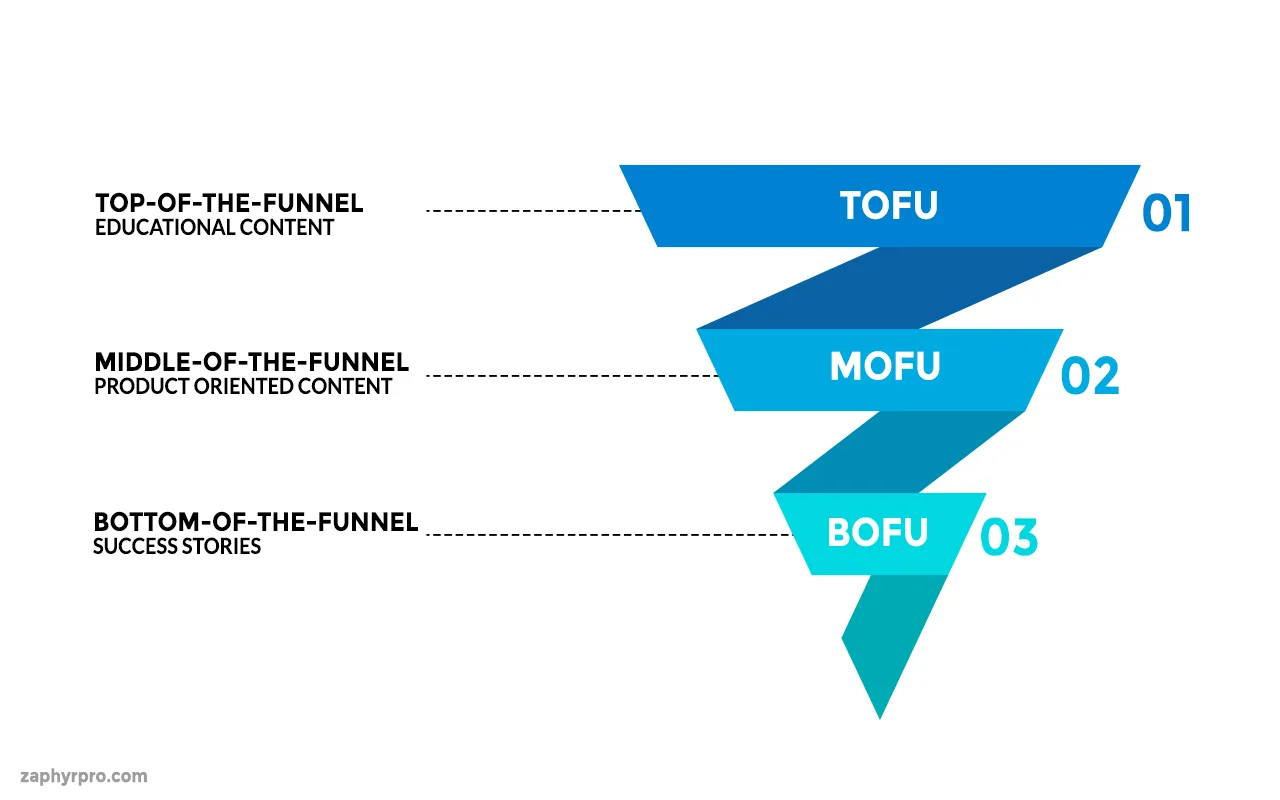 Spread awareness:
Content marketing can elevate brand recognition and help individuals find more about the solution. It is essential to attract new leads at the top of the funnel (ToFU) and encourage B2B sales conversion at the bottom of the funnel (BoFU). Buyers may want your services or products but need help understanding what it is or even that this kind of thing exists - so create content to tackle their problems, and they'll familiarize themselves with your offerings (and purchase them).
Forge trust:
Posting quality content can make your business look like a leading service provider in your field. Not only does this showcase expertise, but it also builds a trusting connection between potential customers and your business.
Nurture customer loyalty:
Quality content attracts those who research before making a choice. When buyers invest time exploring something, they tend to be loyal to whatever brand they select, which leads to recommendations and sales!
Maximize SEO (search engine optimization):
Search engines are evolving better than ever at locating high-quality content so that it appears near the top of search results - ramping up organic visits, which often converts faster!
Expand reach:
Investing too much money into demos or other immediate calls-to-action may lead to decreased returns once costs outweigh benefits; however, utilizing content marketing enables businesses to boost visibility among individuals already searching for similar benefits, which can be ideal for encouraging leads until they become B2B sales!
Boost sales:
Ultimately, all marketing strategies aim towards improving sales numbers and profits made - therefore, evaluate how well your content performs by reviewing its usefulness in generating earnings over time. Your business may have content prospects that are engaging, but if it isn't pushing toward sales conversion, it's time to revamp the content strategy.
How Does B2B Content Marketing Run?
Other marketing efforts are supported by content marketing. For instance, content marketing offers prospects who are not ready to buy; a reason to give up their contact details. These leads may take longer to transform into sales but tend to convert at a lower cost than those generated through other marketing efforts or strategies.
Content marketing operates with existing marketing funnels to generate new leads and/or push existing leads down the sales funnel.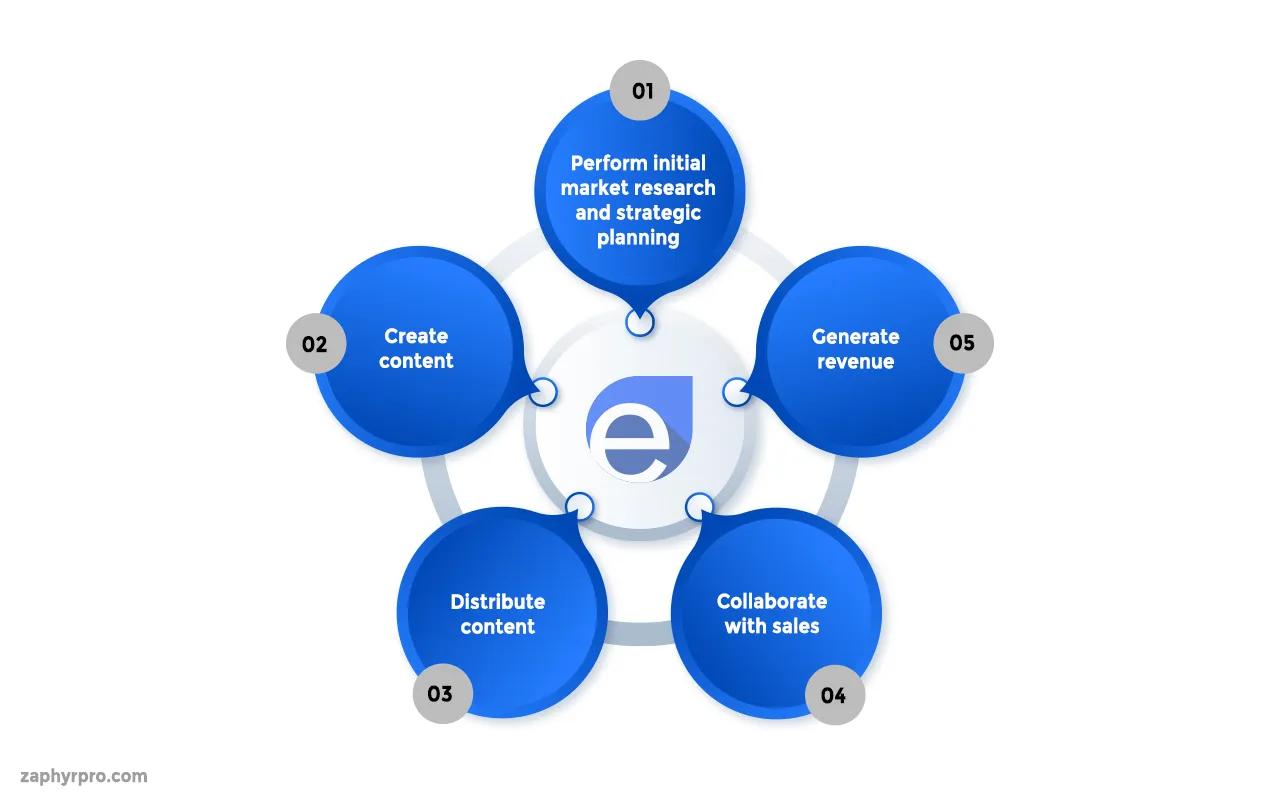 These are five steps on how B2B content marketing works to incorporate a strategy into your B2B business to grab attention, get leads, and convert them to sales.
Perform market research and plan a content strategy.
Create content that resonates with your target audience.
Publish it on your website and other platforms to build awareness.
Once the leads are aware and interested in your services, collaborate with them.
Close the sales deals and generate revenue for your B2B business.
Zaphyre excels in highly optimized & well-researched blogs, press releases, social media copywriting, white papers, one-pagers, email marketing, and more.
What Kinds of Content Should Your Business Use?
Blog posts are the best spots to include targeted keywords that boost your search engine rankings and bring you more sales leads. Every blog should target to assist readers in resolving a pain point or a specific concern.
B2B companies that invariably blog earn 67% more monthly leads than those that don't regularly. On average, it takes 3 to 5 blogs to get 40% of B2B customers to contact a sales representative.
Assemble blog categories that wrap up almost every topic related to your business or that your buyer persona will be interested in. Then post consistently on schedule to give readers a vision or something to look forward to and return for.
As a piece of advice, check your blog's plagiarism and grammatical mistakes before you click the publish button.
If you make something invaluable, your supporters may share this content with their friends and network, expanding your reach. This also should attract more attention to your website, bolstering lead generation in a snap for your business.
A staggering 77% of B2B businesses say email newsletters are vital to their content marketing strategy.
When the audience subscribes to your emails and signs up for your email newsletters, that creates direct communication between your marketing & sales team and them. You can use this medium to promote your new services, products, blogs, limited-time offerings, and more.
Doing all this keeps your business at the top of their minds. It helps your business convert them into potential buyers by familiarizing them with email newsletters about your business and its services or offerings.
Landing pages are the first point of contact for B2B buyers with your brand because most searchers arrive at a landing page when they uncover your business with an organic search result or click a paid advertisement.
So your business's objective should be to deliver helpful information that sustains and defines your approach:
Appropriate content, including SEO keywords
A contact form to sign up for the strategies and success stories
Internal linking
Calls to action (CTAs)
Build up your landing pages to connect with your audience and spark interest. Then only your business will start nurturing leads as they progress down to your marketing channels.
Did you know that over 80% of B2B customers begin their analysis or research with a referral?
Case studies highlight how your business's clients found success utilizing your services. Every case study underscores your customers' problems and describes how they overcame them with your aid or help. By that, case studies serve as social proof for you.
For example, case studies create value for your business by letting buyers visualize themselves in the same position as your clients (and eventually choose your service for the exact outcomes) using a review or testimonial.
Now you know that content marketing is essential in B2B lead generation, and creating a solid B2B content strategy can significantly benefit your business. Whether you manage it internally or outsource B2B content marketing, your investment will yield rewarding ROI.
As a reputable content creator company, Zaphyre believes content is the base for any business's success in today's digital landscape. This is why we put extra attention to detail & utmost care while creating content that ticks all the boxes.
Ready to grow your B2B business? Our content creation services are tailored to meet your targets.