When it comes to B2B email marketing, email is the preferred marketing method for marketers, as it holds the top position, with 81% of them considering it their primary approach. This statistic becomes even more compelling when email generates an average ROI of $36 for every dollar spent surpassing all other marketing channels.
However, crafting a sales email is a complex task. While typing a few phrases and hitting send may seem easy, a sales email requires careful consideration and strategy. Email is an excellent tool for B2B email marketing lead generation, but it's important to remember that there are right and wrong approaches to utilizing it.
In this blog post, we will share some ways your sales teams can use to attract potential buyers in your target market and retain their interest.
What is B2B Email Marketing?
B2B email marketing is a tool that promotes services or products to business-to-business (B2B) customers. The main objective is to foster relations with potential prospects, build brand understanding, and generate B2B leads.
Emails are usually sent from the sales or marketing team and are addressed to the decision-makers in the target businesses. Such decision-makers can be managers, presidents, CEOs, and influential people.
When done precisely, B2B email marketing delivers valuable details that enable the recipient to invest or take another preferred action to move through the marketing funnel.
Why B2B Emails Require B2B Strategies
Traditional email marketing tactics often fall short when applied to B2B campaigns, as they fail to recognize the unique dynamics and requirements of the B2B landscape. Like two identical locks require different keys, B2B email marketing also demands distinctive approaches to be effective.
Let's explore why general marketing email tactics may fail to deliver optimal results when used in B2B campaigns:
Tailored Tone and Content
B2B interactions require a more formal and professional tone than B2C communication. B2B strategies concentrate on creating content that resonates with the distinct industry, addresses pain points, and offers services that align with the professional requirements of the target audience.
B2B email strategies prioritize targeting decision-makers and influencers within organizations. So the B2B purchases often involve multiple stakeholders, and email campaigns need to address the interests and concerns of each role involved in the buying procedure.
Targeted B2B strategies segment the audience based on industry, company size, job function, or other relevant criteria to deliver personalized and pertinent content to each recipient.
B2B buying cycles are more complex and typically longer than those in B2C. These B2B strategies focus on and recognize these nurturing leads through well-timed emails.
The content in B2B emails is created to sustain the buyer's journey, delivering case studies, educational resources, and testimonials that address the buyer's necessities at each cycle stage.
B2B Email Marketing Strategies to Follow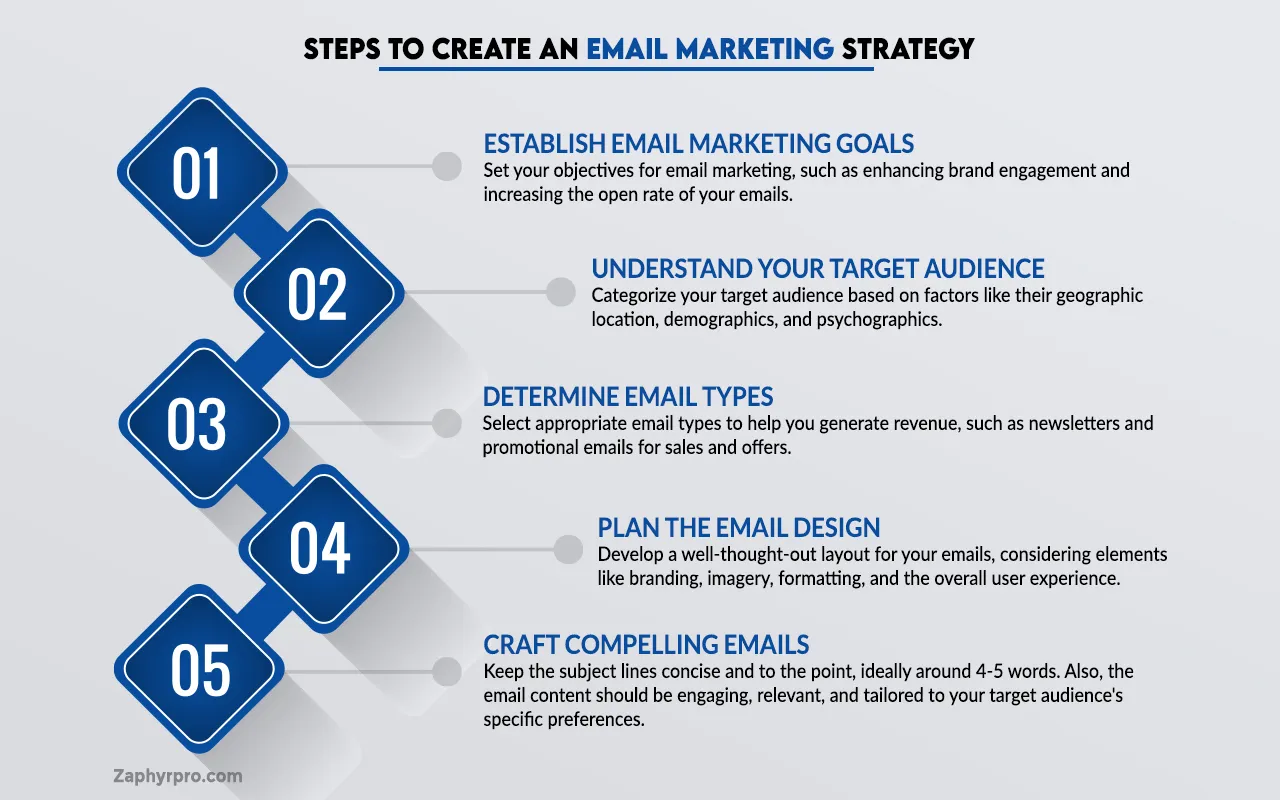 While email marketing may seem straightforward, implementing effective strategies can significantly impact the success of B2B campaigns.
The buyer's first interaction with your company's email is a subject line. While the contents of emails are necessary, a compelling subject line is generally a determining factor of whether or not the buyer will open the email.
As your marketing or sales team writes subject lines, they must be clear and concise so the potential customer understands what the email includes. Here are subject line best practices to think about executing in your B2B email marketing campaign:
Personalized to the recipient
Keep it short
Less use of punctuation
Every sales email should have a goal of something you want the recipient to do with the information you provided. As your team crafts your email sales copies, it's crucial to add at least one call to action that directs the reader to the next phase of their journey in the sales cycle.
A study found that, for 90% of Call To Actions link texts, the words "more info" were more valuable than "buy now."
It shows the significance of providing B2B customers with data. Especially with prior purchases, business buying is favorably knowledge-based rather than emotional. You have to prove that your product or service is most suitable for them, and when they're ready to purchase, you'll have the edge over your competitors.
To avoid your emails becoming spam, you must keep your content clear and relevant to the sender. If the content is unessential for too many people on your email lists and they all unsubscribe, you increase the threat of a low sender reputation.
Here are some other methods to avoid spamming:
Use Double Opt-in Process
Monitor Email Sending Patterns
Provide Unsubscribe Option
Maintain a Clean Email List
Take Advantage of Personalization
Personalized emails are a superb way to reach potential customers because it offers that your B2B business genuinely worries about the company's success. Personalization within B2B email marketing lead generation also helps.
In particular, personalized subject lines are just the start. A recent study by HubSpot found that when an email has a customized call to action, the email will achieve 202% better than the ones with basic CTAs.
Best B2B Email Marketing Practices to Pursue
To truly captivate your prospects and encourage meaningful interactions, timing plays a crucial role. By understanding the most effective times to send your emails, you can maximize engagement and have favorable reactions from your target audience.
Research shows that Tuesdays are typically the best days to send sales emails. But looking at the data you've gathered from your existing campaigns is essential before deciding.
It's always a challenge figuring out how long your marketing communications and content should be. But a good rule is to keep an email sweet and short when putting B2B email templates or sending follow-up or cold emails.
Go long for white papers or blogs, but make your point effectively when you get the attention. Keep paragraphs reduced to no more than 2-3 sentences, even just 1 or 2 where needed.
Problem-Focused Messaging
Ultimately your brand needs to be placed as a trouble solver in your territory. While your content, website, and social media existence should efficiently convey this concept, B2B emails are the best place to illustrate this fully. They can be a prize winner if utilized sufficiently.
Spotlight the common value-building points of the user or consumer journey or particular problems that would resonate with the subscriber. Given the segment you are reaching, you must consider the subscriber's potential role, such as how much staff they lead, their distinct duties, the software they utilize, and other aspects.
Always highlight the lead's difficulties instead of the advantages or extras of your service or products. It's attractive to drive more for content featuring your best services and products, keeping the content user-centered so it doesn't come off as excessively sales-y.
The follow-up practice can be set up with automated email integration software or manually to get more qualified leads into your mailbox. The email series should be one email with two follow-ups explaining how your services provide solutions to the buyer.
The follow-up practice can be set up with automated email integration software or manually to get more qualified leads into your mailbox. The email series should be one email with two follow-ups explaining how your services provide solutions to the buyer.
What is a Good B2B Email Open Rate?
A good B2B (Business-to-Business) email open rate can change depending on different aspects such as industry, target audience, email list quality, and the efficacy of your email marketing strategy. However, as a general benchmark, a B2B email open rate of around 15-25% is reasonable. Remember that this is a rough estimate, and the open rate can differ significantly.
According to a study, the average open rate for B2B emails across industries was approximately 21.33% . Factors such as the reputation of your sender domain, the relevance of your subject line and content, and the timing of your email can all influence your open rate.
Partner with the Best B2B Email Marketing Provider
While anyone can write an email, it takes a certain kind of sales and marketing person to pen the sales emails that convert leads into clients. By pursuing the latest B2B email marketing best strategies and practices, you can generate more leads and gain and retain the attention of potential buyers in your target market.
At Zaphyre, our email marketing specialists always train themselves on B2B email marketing best practices to ensure our clients receive the most significant ROI from their business growth efforts. If your B2B business needs help to get sales meetings and generate prospects with verified decision-makers ready to buy, reach our business growth experts to get our email marketing services now!